HDMI/NDI bi-directional converter that supports HDMI input (encoder) to both NDI and NDI|HX with loop through for view on monitor, or HDMI video output (decoder) from NDI and NDI|HX. This is the first NDI converter based on NDI SDK 5.0 which can handle both NDI and NDI|HX, encoding and decoding at the same time.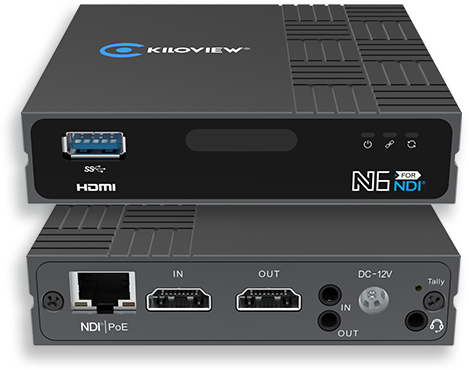 Both HDMI to NDI and NDI to HDMI Bi-directional Converter
Kiloview N6 HDMI/NDI converter is a bi-directional converter that supports HDMI input (encoder) to both NDI and NDI|HX with loop through for view on monitor, or HDMI video output (decoder) from NDI and NDI|HX. This is the first NDI converter based on NDI SDK 5.0 which can handle both NDI and NDI|HX, encoding and decoding.
Featured with powerful functions such as PoE, built-in big tally light, PTZ control, 3.5mm audio line in/out, multi-channel audio, intercom functions, N6 is the easiest way to get access to the fabulous NDI world with versatile choices.
NDI 5 is a revolution in video storytelling, you can connect to any device, in any location, anywhere in the world, making the whole world to be your studio.
What's New in NDI 5?
NDI Bridge – A free NDI tool to form a secure bridge between any NDI network regardless of location, making NDI transmission over LAN, WAN or public internet possible.

NDI Remote – Based on WebRTC, it Allows anyone using just a URL to contribute live audio and video to another point anywhere in the world.

Reliable UDP – The key difference of NDI 5 and the previous versions, makes connections more resilient.

Support for ARM – Billions of devices NDI enabled
Tell your story with the Newest Version of NDI
With Kiloview N6, you can make an easy selection without worrying of NDI versions
·The world's first NDI converter based on NDI 5.0
·The only NDI Converter that can support both NDI and NDI|HX, both encoding and decoding
All-in-One Solution for HDMI to NDI (NDI|HX) Conversion
N6 supports HDMI input and encode both NDI for production and NDI|HX for monitoring, and loop through. At the same time, it supports either NDI or NDI|HX decoding with HDMI output.
Switching the working mode on the UI to choose the mode you need, it can easily meet all your different workflows.
*Note: N6 can be used as either an encoder or a decoder but not simultaneously currently. Please note our update when simultaneous working is available.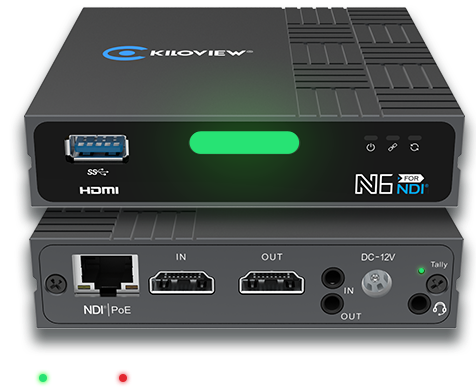 N6 has a big-sized while bright and distinct Tally for PVW/PGM indication – all is to make perfect cooperation for your team.
Kiloview N6 supports 3.5mm analog audio line in/out or embedded audio as well as Mic in.
It also supports voice intercom between all Kiloview devices and the control PC/phone, or with Kiloview Intercom server.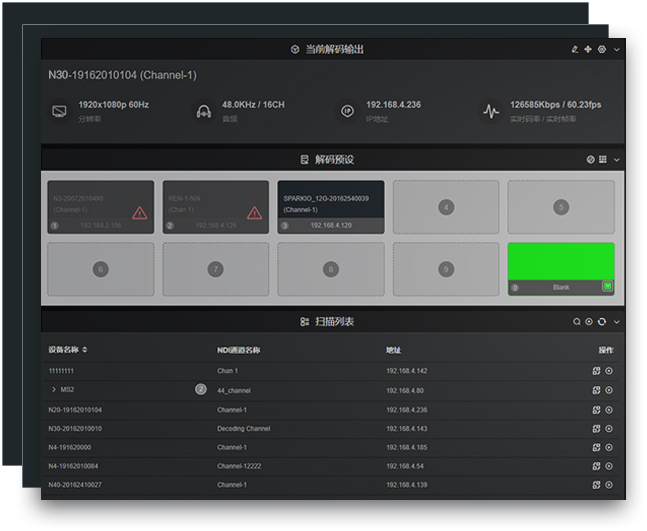 Seamless Switching without lag
Kiloview N6 HDMI to NDI/NDI to HDMI Bi-directional converter comes with a web GUI console, in which you can preset the NDI to HDMI sources.
With Kiloview unique technology, there will be no splash or lag when switching the output NDI videos.
Control with a USB keypad
In decoder mode, you can preset the NDI sources from number 0~9. Connect the decoder with a USB keypad, you can easily choose the output source by a single press.
Or you can even use the USB Keypad to control a PTZ camera- the cheapest PTZ Keyboard you can get.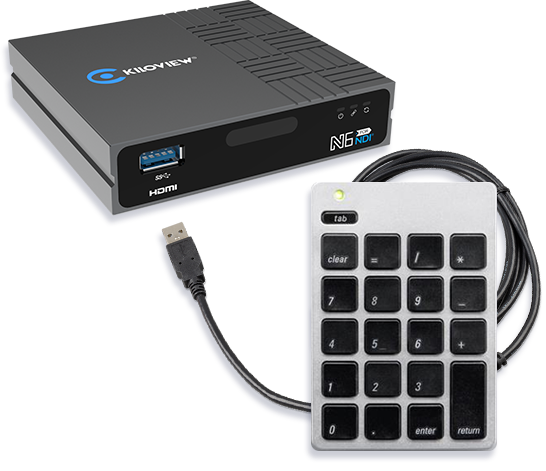 Kiloview N6 supports PTZ control through USB to serial RS232/485/422. It also supports PTZ control over IP with different protocols, no extra cable required.
With PoE, the N6 can be powered with a single cable connection. With the design of wide DC input range from 5V to 18V, it can also be easily powered by USB power or camera battery.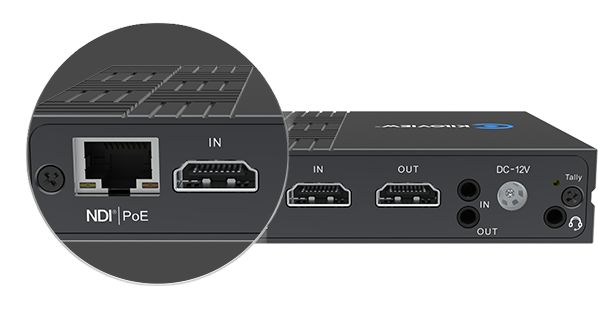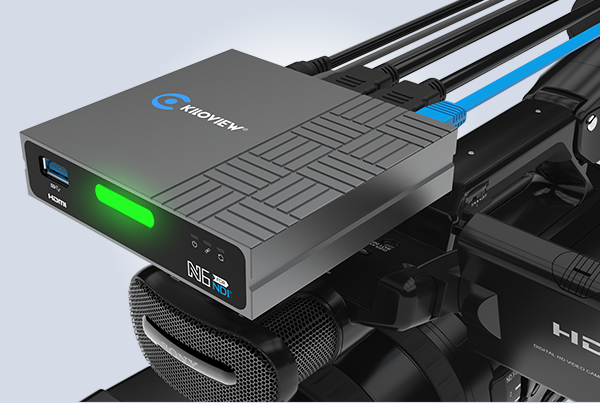 Exquisite design, small and light-weight, which can be easily attached on the camera by a threaded screw.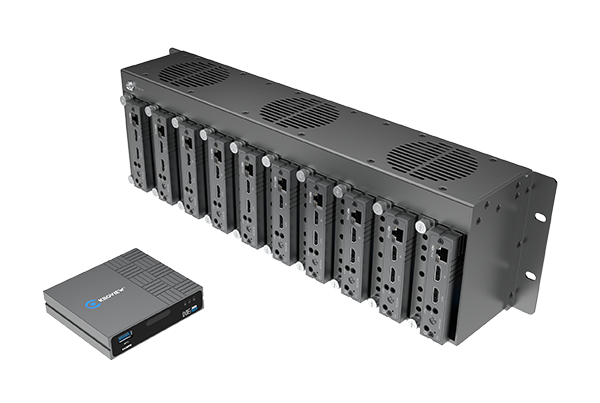 The groove design on both sides facilitates the rackmount installation in 1U/3U
Compatible with TriCaster, vMix, OBS and other platforms, so your video production can be carried out anytime, anywhere.

NDI® is a registered trademark of NewTek Inc.
Full NDI Bandwidth Requirement
| Resolution | 4KP60 | 4KP30 | 1080P60 | 720P60 |
| --- | --- | --- | --- | --- |
| Default Bitrate | 250Mbps | 200Mbps | 125Mbps | 90Mbps |
Model
N6
Video input
1*HDMI
Video output
1*HDMI(Loop or decoding output)
Audio port
1*3.5mm Line In 1*3.5mm Line Out 1*3.5mm Mic
Network
1*RJ45 1000Mbps Ethernet port (with PoE)
Video resolution
1920x1080P23/24/25/50/59/59.94/60;
1280x720p30/50/59/60, 1280x1024P60, 1152x900P60, 1152x864P60, 1024x768P60, 800x600P60
NDI® codec capacity
1* FULL NDI® and 1x NDI®|HX
NDI®CODEC feature
FULL NDI HD encoding, typical bitrate: 125Mbps@1080p60
LED indicator
Tally light, power light and status connection light
Power
PoE, DC, D-Tap (camera) optional. 5-18V wide range supported
Voice intercom
Customization
PTZ control
Network PTZ and Serial Port
DHCP
Support
Management
WEB page
Power consumption
6w
Operating temperature
-20~45℃ (Storage temperature: -20~70℃)
Dimension
100*80*24 mm (3.94"*3.15"*0.94")
Weight
272g
Note
With the current NDI SDK 5 performance, according to our test, N6 Full NDI encoding can just support up to 1080P25 currently. But we've been optimizing this problem and pretty soon, it will be able to do 1080P60, for both Full NDI and NDI|HX encoding and decoding.
FAQ about Kiloview N6 and NDI 5
Q: What are the major differences between NDI 5 and NDI 4?
A: There are five quantum leaps from NDI 4 to NDI 5:
–Reliable UDP. You will get rid of laggy video playing or slow transmission from reliable and high-efficient UDP protocol.
–ARM Support. You will have a flood of devices to take part in NDI creation.
–NDI Bridge. You can discover NDI source across the Internet, rather than local intranet.
–NDI Remote. Any remote user can quickly access your NDI system with your shared link.
–NDI Audio Direct. You can have floating point audio in major DAW (digital audio workstation) application with unlimited channels running in the new NDI 5 system.
Q: What is the significance of NDI5 for video producers?
A: With NDI 5, you can connect any video content, source, and devices all over the world. That means you can finish video production across networks all around the world. Meanwhile, every user or producer can opt-in to your creation by a link simply and securely.
Q: Can NDI Bridge replace SRT?
A: Similar to NDI Bridge, SRT is another existing protocol for public video transferring, and it's been used for point-to-point transmission. Before we have NDI5, many of the remote video transferring solutions are based on SRT, but as NDI Bridge is here, we have a more powerful option for low latency and high-quality IP video transmission.
Q: What is the mechanism of NDI Bridge?
A: According to the new NDI 5 SDK and some industry views, before sending to the NDI Bridge, the video will be transcoded into H.264/H.265 stream data over RUDP. On the other side, the stream data will be recovered to NDI. That is to say, NDI Bridge works as a built-in tool for video encoding and transmission.
Q: How does NDI Remote work?
A: An NDI Remote link has two-fold function (sending video & receiving video). Any user or contributor can join your NDI production remotely by simply clicking your link. NDI Remote securely empowers multiple remote contributors to send their videos. Meanwhile, it allows your audience to receive video from any mobile device anywhere in the world into virtually any video software application to add sources conveniently.
Q: What the ARM-based NDI 5 SDK means for the industry?
A: Billions of devices NDI enabled through support for ARM. And it provides stream level access to NDI, FPGA implementation and full source code to permit an off the shelf FPGA dev-kit to be used as a starting point for NDI encoding projects.
NDI 5 can run on devices with ARM processors. "That means mobile assembly now has become a part of the assembly chain," Vizrt's president Michael Namatinia said. "Suddenly devices that did not have accessibility to NDI now can become an NDI device. It brings the price from thousands or hundreds of dollars down to dollars on the development side." Going forward, Namatinia expects to see a wave of new NDI-capable products coming out that enable more comprehensive production at a lower price.
Q: Will Kiloview products be upgraded to support NDI 5?
A: After NDI 5 is officially released, we will arrange an upgrade, and all products will be upgraded to use SDK 5.0.
Q: What does NDI 5 mean to Kiloview? What are the new product plans?
A: Kiloview is the strategic partner of NewTek and NDI 5 frees Kiloview from the question whether to go with NDI|HX or NDI, also offer more chances for Kiloview to come up with much more advanced NDI products with strong function, reliable performance and cost-effective price since NDI 5 allow devices to be built on ARM CPU.
Fully understanding the opportunities NDI 5 will bring to the industry, Kiloview will launch its N6, an HD HDMI and NDI+NDI|HX bi-directional converter. With two built-in tally lights, based on NDI 5, N6 will be your video transmission master. More can be found on our website.
Q: Is Apple M1 or Raspberry Pi compatible with the new NDI 5?
A: Sure. Since NDI 5 can be run on ARM architecture, a flood of new devices like Android phone will be able to play a role in the NDI world.
Q: What are some cost-effective solution for beginners to try NDI?
A: Kiloview N6 is a great one for new NDI protocol, which E1/E2-NDI is another inexpensive option for newbies to NDI world.
Q: Will the NDI 5 Remote handles mix-minus on its own?
A: Theoretically speaking, both mix-minus and AEC can be handled by the new protocol. And the final hardware properties vary on realizing related features.
Q: Will NDI5 be added into the Android and iOS apps?
A: While the official developers are working on their own to developing NDI Apps of all platform, Kiloview is contributing to the ecosystem with its Multiview NDI player (free to download).